This page has been made in the hope of memorializing the musical efforts of four young men-Scott, Clint, Dave, and Bob Moffatt. Music touches the lives of people everywhere, and these teens have had the privilege of being a positive influence on the lives of many people. Many thanks to them and I wish nothing but the best for their future endeavors.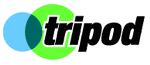 This is the Tripod logo.
The One-minute Page builder makes Web page publishing fast and easy. I can add my own picture and text, plus news, weather, my daily horoscope, and my favorite links!
[an error occurred while processing this directive]
[an error occurred while processing this directive]
[an error occurred while processing this directive]